How Digital Risk Protection Helps You Reduce Your Organization's Attack Surface
Nathan Teplow
June 12th, 2018
In our modern age of digital connections and ubiquitous Internet access, both organizations and individuals face a "double-edged sword" when using web-based technologies. As we've increased our usage of the World Wide Web, our digital footprints have grown exponentially, and as a result, so has the digital attack surface. This has given cyber criminals a vast network of information to leverage for carrying out increasingly targeted and effective attacks.
For companies, "Footprint Reconnaissance" (i.e. monitoring and tracking your digital footprint over time) has become a serious challenge. Most organizations have numerous web outlets, social media accounts, servers, IP ranges, ASN's, databases, repositories, cloud storage servers and other Internet-facing assets. And these are just the resources that the security and/or IT department typically know about. There are usually many more assets that the company doesn't know about, like ad-hoc sites and services, temporary QA environments (which too often stay permanent), and all types of Internet-facing services, which likely were set up by former employees, but are now forgotten.
The Rise of the Digital Risk Protection (DRP) Market
As digital footprints widen, security pros — as well as marketing, PR, and other peers — are seeking DRP solutions to better monitor and mitigate digital risk. DRP adoption is steadily rising because these tools can help:
Discover and monitor all digitally exposed infrastructure and assets
Minimize the organization's mean-time-to-remediate (MTTR) issues
Strengthen customers' trust in the brand
As a result, many venture capitalists have begun investing in the DRP market. According to Forrester's new report, Digital Risk Protection, Q2 2018, VC's have invested nearly $500 Million in DRP vendors since 2013, with investments reaching over $179 Million in 2017. While investment has increased, M&A in the market remains relatively quiet as most DRP vendors focus on organic growth.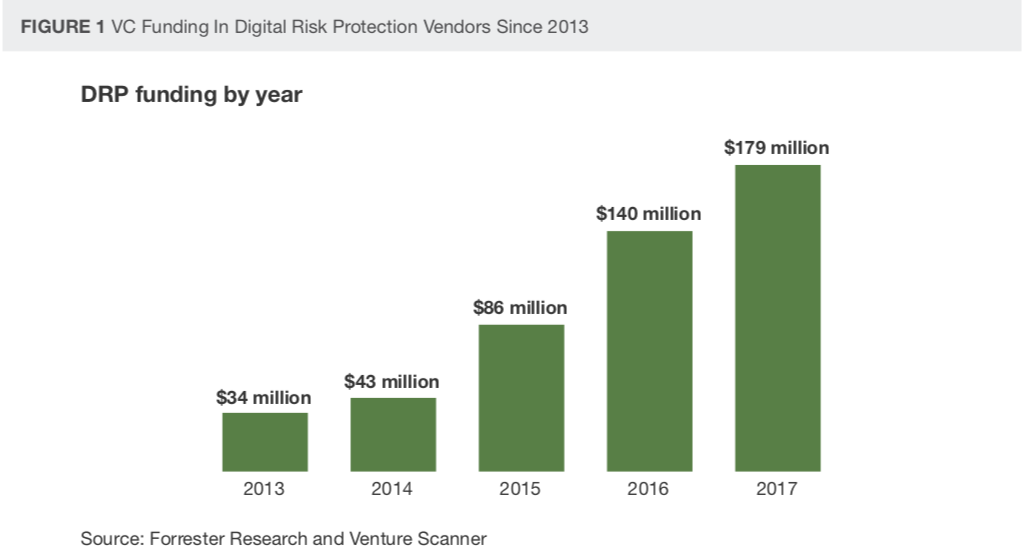 Digital Risk Protection Market Overview
In Forrester's recently published research report, Digital Risk Protection, Q2 2018, they provide an overview of 21 DRP solutions. The report breaks these solutions down into three core functions: mapping, monitoring, and mitigating. Each category of vendor has capabilities that align primarily with one of these three objectives:
Digital footprint mapping tools track firms' digital assets and infrastructure
Digital risk reconnaissance tools uncover firms' digital risk exposure
Digital risk defense tools prevent or resolve attempts to abuse firms' digital presence
IntSights is proud to sponsor this year's Forrester report and be featured as a Growth Vendor. In the report, you can find a foreword from IntSights on how organizations can reduce their digital footprint with Digital Risk Protection, as well as Forrester's analysis of the DRP market.
Download the Full Forrester Digital Risk Protection, Q2 2018 Report

Nathan Teplow
Nathan Teplow is a Sr. Product Marketing Manager at IntSights, where he's responsible for creating and telling IntSights' unique story and value proposition to the market. He's spent his career working at high-growth, B2B technology companies, holding a variety of marketing positions, including content marketing, marketing programs, channel marketing and product marketing. Nathan is a proud University of Miami alumnus, and in his free time enjoys staying active, traveling to new places, and cheering on Boston sports teams.
Stay up to Date!
Subscribe to the blog to stay up to date with all the latest industry news and updates from IntSights.